Chalcedon Checkerspot Butterfly (Euphydryas chalcedona)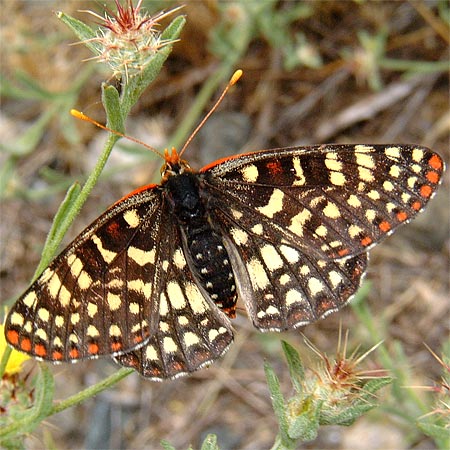 Copyright: Donald Gudehus
The Variable Checkerspot, or the Chalcedon Checkerspot, gets its name from its variations in wing colors. As is typical of Checkerspot butterflies, the Chalcedon displays an orange and white spot pattern with black banding, along with other colors ranging from black to dark brown.
The adult Chalcedon Checkerspot feeds on a variety of flowers. The adults lay their eggs under the leaves of host plants, and the caterpillars later emerge to form a silk nest and feed on the plant. Invite this Checkerspot into your Garden with Wings!  You won't be disappointed.
Copyright: Donald Gudehus
Chalcedon Checkerspot Host and Nectar Plants
Chalcedon Checkerspot Facts And Information
Butterfly Family: Brush-footed Butterflies (Nymphalidae)
Butterfly Subfamily: True Brushfoot (Nymphalinae)
Butterfly Wingspan: 1 1/4 in. to 1 1/2 in.
Butterfly Habitat: Tundra, prairies, foothills, canyons
Chalcedon Checkerspot Flight Range Map
Note: Map represents approximate butterfly flight range.