Orange Sulphur Butterfly (Colias eurytheme)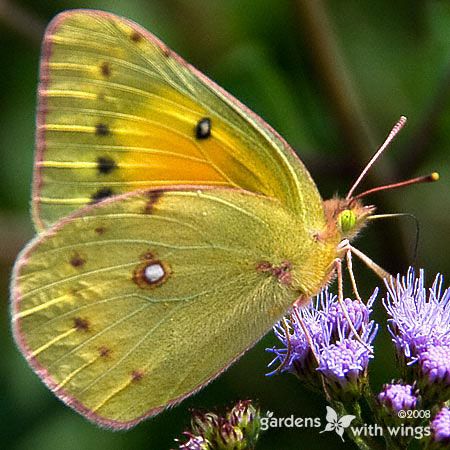 Copyright: Fred Miller
The precious Orange Sulphur is the prima ballerina of the butterfly world. With wings of pale yellow-orange peppered with sparse spots of blue-brown and outlined in a light pink border, this butterfly appears to gracefully dance on the breeze. Gentle, strong, and agile, the Orange Sulphur commands your attention in nature's theatre.
The female often has small white or silver spots on the underside of her wings. Also known as the Alfalfa butterfly, this creature loves flying through fields and pastures. You will ask for an encore once you've had an audience with this magical butterfly.
Orange Sulphur Host and Nectar Plants
Orange Sulphur Facts And Information
Butterfly Family: Whites & Sulphurs (Pieridae)
Butterfly Subfamily: Sulphur (Coliadinae)
Butterfly Wingspan: 1 1/2 in. to 2 1/2 in.
Butterfly Habitat: Open woodlands, prairies, open areas
Orange Sulphur Flight Range Map
Note: Map represents approximate butterfly flight range.