Western Tiger Swallowtail Butterfly (Papilio rutulus)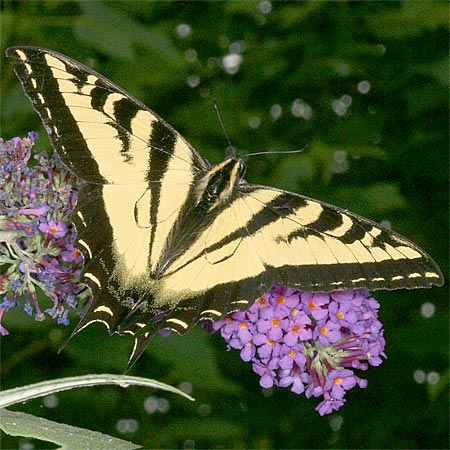 Copyright: Donald Gudehus
The Western Tiger Swallowtail is a common butterfly in the Western U.S., closely resembling its counterpart, the Eastern Tiger Swallowtail. It is a striking butterfly, with impressive large yellow and black wings and spots of blue and orange near its tail.
The adults feed on nectar from various plants, so if you live in the West, keep your eyes open for this beautiful and popular butterfly in your garden.
Copyright: Donald Gudehus
Western Tiger Swallowtail Host and Nectar Plants
Western Tiger Swallowtail Facts And Information
Butterfly Family: Swallowtails & Parnassians (Papilionidae)
Butterfly Subfamily: Swallowtail (Papilioninae)
Butterfly Wingspan: 2 3/4 in. to 4 in.
Butterfly Habitat: Open woodlands, streams, river banks, canyons
Western Tiger Swallowtail Flight Range Map
Note: Map represents approximate butterfly flight range.