Humans have been fascinated by the deep symbolism of butterflies since the dawn of time. While some may choose to wear butterfly jewelry to display the ethereal beauty of these creatures, many others have made deep personal connections to the butterfly's symbolism and grace.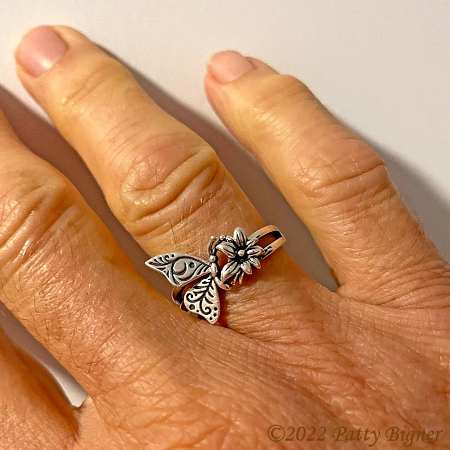 Butterflies represent happiness, beauty, creativity, and freedom… but why would someone choose to wear butterfly jewelry? Well, that question may not be so easy to answer. A butterfly may be spiritually significant to someone for several reasons, influenced by an intricate web of cultural impacts and personal experiences. Because of this, the butterfly holds many meanings, which may differ from one human being to another.
Butterfly jewelry may represent a time of transformation or drastic transition in someone's life or an event that the wearer wants to remember forever. Butterflies are often seen as messengers from the Great Beyond, carrying messages from loved ones who have passed, so many wear butterfly jewelry due to their spiritual significance.
Especially common during Spring and Summer, butterfly jewelry has been making a comeback with the resurgence of 2000s-era fashion – and it's not going anywhere.
Butterflies aren't just for little girls – even Mariah Carey sports a luxury butterfly ring designed by Van Cleef & Arpels. Supposedly worth over $40k, Mariah's butterfly ring is crafted with white gold and 3-carat diamonds. Pandora butterfly charms grace the wrists of more subtle fashionistas who still want to display the fabulous insects. Butterflies are even making a debut in menswear and can be spotted on decorative cufflinks and playfully-patterned shirts.
What Does Butterfly Jewelry Symbolize?
Butterfly jewelry meanings may differ depending on the context in which they appear. Butterflies can represent a variety of effects based on cultural significance, an individual's personal experiences, or color symbolism.
To see two butterflies flitting around each other signifies that love is on its way to you! For this reason, a person may wear two butterfly charms in honor of their relationship or as a sign of affection for their lover.
Seeing a butterfly may be a sign that your spirit guides or ancestors are trying to communicate with you. You may even be able to determine the message from your guide by paying close attention to the color of the butterfly delivering it.
If you've had a special moment in your life in which a butterfly has reached out to you, then you may wish to honor that moment with a unique piece of jewelry. Looking down at your butterfly jewelry can refresh your memory so that you may carry it with you as though it happened only yesterday.
There are many reasons a person may wear a particular symbol – but the only way to really know why someone is wearing butterfly jewelry is to ask them!
Why Does Mariah Carey Wear a Butterfly Ring?
The meaning of butterfly jewelry can vary greatly depending on the person wearing it and their own personal experiences. For example, pop idol Mariah Carey proudly wears a 3-carat diamond butterfly ring – but why is Mariah's signature butterfly ring so meaningful to her?
Mariah Carey's hit album Butterfly was released during a devastating time in her life: right after her divorce from her ex-husband Tommy Mottola. Tommy had a significant influence on Mariah's music up until that point, but it was during the production of Butterfly that she broke free for the first time and let her voice be heard.
Although challenging, this breakup was the inciting incident of Mariah Carey's transformation, allowing her to ascend to new heights and spread her wings as a changed woman. The critically-acclaimed album achieved five-times platinum in the United States and topped the charts in several countries.
The butterfly – both the animal and Mariah Carey's 1997 album Butterfly – signifies her transformation and the freedom she finally attained when she was allowed to express herself fully. Carey has referred to the album as her Magnum Opus and wears her signature butterfly ring to represent her independence and boundless creativity.
What Does it Mean When Someone Gives You Butterfly Jewelry as a gift?
If someone gives you butterfly jewelry as a gift, you can be sure that this person deeply cares about you. It is generally considered a good omen or a sign of someone giving you their blessing.
A butterfly pendant may be given as a sign of hope to someone struggling through a difficult time. This makes it a thoughtful gift for someone who has recently lost a loved one, serving as a gentle reminder that death is not the end and that they are always with us.
If you receive butterfly jewelry with two butterflies, it may be a symbol of someone's romantic feelings for you. Conversely, it may signal that your next romantic partner will enter your life soon, so be sure to keep an open mind and an open heart.
Butterfly Charm Meaning
The butterfly may symbolize another meaning if worn as a charm rather than the main focus of the jewelry. By closely examining the potential symbolism of other charms on the bracelet, you might determine the butterfly's significance to the wearer.
Butterfly Jewelry: Lucky Charm
Butterflies are often seen as symbols of good luck! These beautiful creatures make perfect good luck charms when added to a bracelet, such as the Pandora butterfly charms.
To see a butterfly during a difficult or transitional time in your life is considered a good luck charm, a promise that you will rise from the ashes of your dire situation. If someone is wearing a butterfly charm, there's a good chance that they've been through hell and back – and they're lucky to have made it.
Butterfly Necklace Meaning
Butterfly necklaces may be worn as a sign of rebirth or ascension. Someone may wear a butterfly necklace to signify that they have overcome their darkest days and emerged even stronger. Butterfly pendants signify hope, whether given to you or even if you've spotted it out and about during a difficult time in your life.
You may wear a butterfly necklace as a symbol of independence from an oppressive bond, such as a toxic relationship or business partnership. A person who wears this necklace may do so to show the world that they will not be tied down that way again.
Butterflies make perfect gifts for teens who have just turned 18 or as a symbol of their transformation into adulthood and freedom as they enter a new era in life. At the same time, butterflies represent a sort of curious playfulness and may be given as a reminder to hold onto those treasures that we experience only in our youth.
Butterfly Bracelet Meaning
Butterfly bracelets are worn for many reasons. Wearing a butterfly bracelet may mean that someone close to you has passed, and you wish to feel their hand on yours at all times. It delivers the subtle reminder of a loved one or the gentle caress of someone you miss dearly.
While butterflies hold troves of symbols to decode, your reason for wearing butterfly jewelry may simply be that you like them! Butterflies may be meaningful to you for other reasons.
Your jewelry does not need to coincide with common symbolism for it to be significant to you. You are already special – so you don't need a special reason to wear butterfly jewelry! Do what makes you happy.
Shop our selection of butterfly jewelry to find the perfect gift to symbolize life and love for yourself or someone close to you.