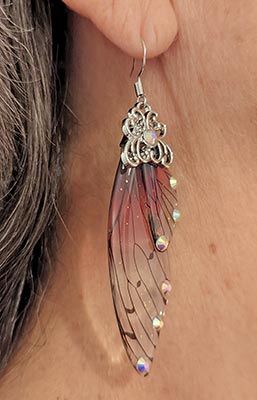 The beauty and delicacy of butterflies have inspired countless artists, designers, and fashion enthusiasts throughout history. This fluttering creature has always been an icon of grace and beauty, from ancient cultures that saw butterflies as symbols of transformation and rebirth to modern runways with butterfly-inspired motifs and designs.
But where did this trend originate? That's what we'll be delving into. We'll explore the roots of this trend in various cultures and its impact on modern styles and pop culture. Prepare to stretch your wings and fly into the magical world of butterfly fashion!
Butterflies in Fashion Throughout History
Butterflies have long captivated the fashion world with their ethereal beauty and delicate charm. Throughout history, these graceful creatures have made their mark on the runway, inspiring designers and captivating audiences with their vibrant colors and intricate patterns.
In ancient civilizations, butterflies were often associated with the soul and transformation, making them a popular motif. From the flowing robes of ancient Greece to the elaborate headdresses of ancient Egypt, butterflies added an enchanting touch to garments and accessories.
During the Renaissance period, butterflies became a symbol of elegance and refinement. They adorned elaborate gowns embroidered with intricate designs that showcased the exquisite craftsmanship of the time. In Victorian fashion, butterflies represented femininity and grace and were often incorporated into jewelry and hair accessories.
The 20th century saw a surge in these trends. From the whimsical print dresses of the 1950s to the psychedelic motifs of the 1960s, these fluttering creatures became synonymous with freedom and expression. In recent years, this style has been resurgent, with designers including the motifs into their collections.
Today, butterflies remain a beloved symbol in fashion, representing beauty, transformation, and freedom. From whimsical fluttering earrings to embroidered patches on jackets, there are countless ways to integrate them into your wardrobe.
The Symbolism of Butterflies in Fashion
Butterflies have long been admired for their exquisite beauty and captivating presence. These graceful creatures hold a special symbolism that adds depth and meaning to their representation in garments and accessories.
Here, we explore the symbolism of butterflies in fashion and how they have come to represent various aspects of our lives:
Transformation: Butterflies are frequently connected to change and rebirth. A caterpillar transforming into a beautiful butterfly mirrors personal growth and change. The motif can symbolize a transformation or a new beginning in the clothing industry.
Freedom: With their ability to flutter about and explore the world, butterflies embody the concept of freedom. In the clothing industry, these designs can evoke a sense of liberation and the desire to break free from constraints.
Beauty: Butterflies are universally regarded as beautiful creatures. The motif is often used to enhance the aesthetic appeal of a garment or accessory. Their eye-catching colors and intricate patterns can add beauty and charm to any ensemble.
Femininity: In many cultures, butterflies have been associated with femininity and grace. They are seen as delicate and ethereal, capturing the essence of femininity. Designers often incorporate these motifs to celebrate and embrace femininity.
Recent Butterfly Fashion Trend Explosion
In recent years, there has been a butterfly fashion trend explosion like never before. These delicate creatures have fluttered their way back into the spotlight, captivating designers and style enthusiasts worldwide. The outfit has taken center stage from the runways of Paris to the streets of Tokyo.
One reason for the explosion is the desire for whimsy and escapism. Butterflies represent a sense of lightness and freedom, allowing people to express their playful and creative side. Designers have embraced this latest taste, incorporating this winged insect's motifs into their collections uniquely and innovatively.
Social media has also contributed significantly to the surge. With platforms like Instagram and TikTok, style trends can spread like wildfire. Influencers and celebrities have been seen sporting outfits inspired by these insects, influencing their followers to embrace this look.
The visual appeal of butterflies makes them perfect for capturing attention and generating excitement on social media. If you are unsure how to create a fashionable look, you can get a stylist to help you. With many of them having their contact information and other data on Leadar, you won't have a problem finding the best professional for your needs.
Designer Collections Featuring Butterfly Motifs
From high-end fashion houses to emerging designers, butterfly motifs have made a splash on the runway in recent years. Designers like Gucci, Alexander McQueen, and Valentino have all utilized butterflies in their collections, creating stunning and whimsical pieces.
Each collection offers a unique interpretation, showcasing the versatility and creativity these delicate creatures inspire in the world of style. Whether it's a statement piece or a subtle accent, incorporating these designs into your wardrobe will surely make a stylish and enchanting statement.
Ways to Incorporate Butterfly-Inspired Fashion into Your Wardrobe
Butterfly-inspired style is a beautiful and whimsical trend that can add a touch of enchantment to your wardrobe. If you're looking to embrace this timeless look, here are some inventive and interesting ways to integrate it into your style:
Clothing: Look for dresses, tops, or skirts with this fluttering creature's prints or embroidered motifs. These pieces instantly elevate your outfit and add a playful and feminine touch.
Accessories: Accessories are a great way to incorporate this style into your wardrobe subtly. Add butterfly-shaped earrings, necklaces, or bracelets for a dainty and whimsical accent.
Shoes: Complete your look with a pair of butterfly-themed shoes. Whether it's a pair of flats, heels, or sneakers, these details on your footwear can make a bold and eye-catching statement.
Hair accessories: Add a touch of charm to your hairstyle with hair accessories inspired by this beautiful creature. Opt for hair clips, headbands, or barrettes to bring a colorful and quirky accent to your look.
Nails: Express your love for these insects through your manicure. Choose nail polish colors that mimic the vibrant hues of their wings, and add nail art designs for a fun and stylish twist.
Don't be afraid to experiment and have fun with different ways to incorporate these delicate creatures into your wardrobe.
Wrapping Up
The butterfly-inspired fashion trend has been a timeless and versatile source of inspiration. Its rich history and symbolism have provided a source of endless creativity, leading to stunning and innovative pieces.
From ancient Greece to the modern day, butterflies have been an enduring source of fascination and wonder for humanity. Whether seen as symbols of rebirth, beauty, or freedom, they have captured our imaginations and left an indelible mark.
The future of this style looks bright, and we can expect to see even more daring and captivating designs in the coming years. As we continue to draw inspiration from the natural world, the butterfly remains a fitting symbol of transformation, hope, and the boundless potential of human creativity.